Shammond's World

"When I have him guessing what I'm going to do, I'm most lethal."
                    Shammond Williams, 
                  in Carolina Court '95-96
Last Changed on June 9, 1998.
---
This is the page of Shammond Williams. Look for him as everyone's favorite UNC basketball player this season. He is the guy wearing number 3.

---
---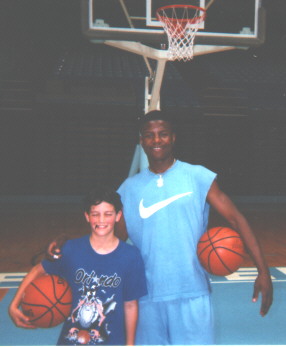 Here is a picture of me and my #1 fan, Nathan Fleishman, at the Dean Dome.
---
Take a look at all the Blue Heaven Pages:
Vince's Court
Antawn's Joint
Ademola's Oasis
Makhtar's Nation
Ed's Corner
---
Seth's Blue Heaven Pages have gained a good amount of popularity. Look at these articles.
---

If you want some additional internet fun, visit Lord of the Sith's Homepage.
It is run by Seth Fleishman. He is a friend who helps me run my page, too. Take a look!
---
We'll Miss You, Coach!